On the road to AERO Friedrichshafen (18-21 April)! Tomorrow, heading to Germany where Elixir Aircraft will be attending Europe's biggest general aviation tradefair, stand A4-409.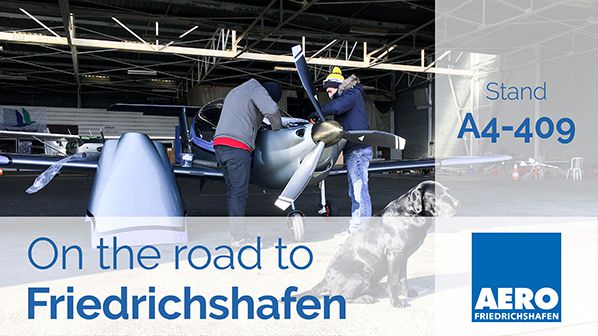 Elixir Aircraft : On the road to AERO Friedrichshafen
An appointment not to be missed
With over 600 exhibitors from 35 countries, 33,000 visitors and 600 journalists, AERO Friedrichshafen is the major event on the general aviation scene in Europe. It is the occasion for the professionals of the sector and all the passionate, pilots and curious to meet for 4 100% aviation days. It's also the perfect time to take stock of the industry's latest innovations, and this is where our presence makes sense...
More ready than ever
After our last instructive tests, we worked on improving the sealing between the elevator and the tab, the cooling system and the steering's return to neutral (among others).
We hope to resume testing when we get back from Germany, but we still have a few things to work on before we get back to it.
While waiting to return to the air, we look forward to meeting you at stand A4-409, to share our progress on the project.
In addition, our vision has attracted the interest of many industry players in various countries. Elixir was not designed to satisfy only the French sky, and we are delighted by the interest of foreign actors. We are confident that 2018 is not at the end of its surprises, and we hope to be able to make big announcements in the months to come.
An accessible offer
Our vision has always been to offer the best of current technology at an affordable price, without compromise. You were already informed of the setting up of a pre-booking offer at 2500€. Don't forget that once you have received your pre-booking, you are able to recuperate the committed sum free of charge, at any time. If you're more interested in renting, don't forget that we just launched our 70€/h offer with 100% availability.
A big surprise
Because good news never comes alone, we will take advantage of our presence across the Rhine to make a big announcement.
If you are not able to visit us directly at our stand, stay tuned on social networks and on our website, we will announce you the news online!
A quick check about the planning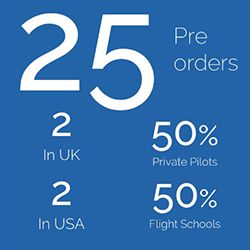 We already have 25 pre-orders, including 2 in England and 2 in the USA, 50% for training centres / schools, 50% for private individuals. It is now important for us to take note of a delay on the initial planning. We are very sorry; Elixir Aircraft's life is not a long quiet river... It is now reasonable to say that we will obtain the certification by the end of the year, for a production launch in the first half of 2019. We will now provide a quarterly update on the schedule.