Inmarsat (LON: ISAT), the world's leading provider of global mobile satellite communications, announced that its market-leading Jet ConneX business aviation inflight wifi service has been installed and activated on 275 business jets worldwide.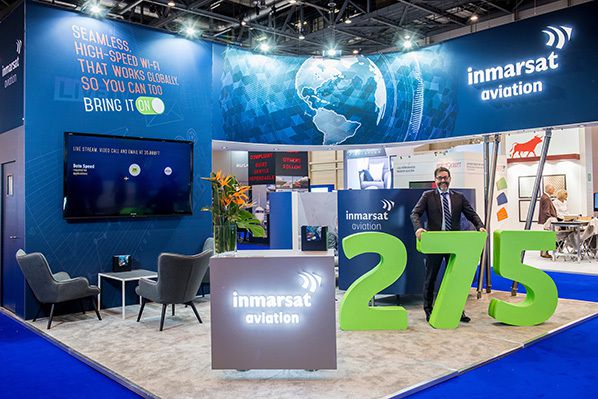 Inmarsat celebrates 275th installation of Jet ConneX business aviation inflight Wi-Fi solution
The impressive milestone was reached less than 18 months since Jet ConneX entered commercial service, highlighting its rapid uptake across the world. As the only global, high-speed inflight Wi-Fi option for business jets today, it offers the same fast and reliable connectivity in the air that has previously only been available on the ground.
Michael Rack, Senior Vice President of Core Business, Inmarsat Aviation, said: "The fact that 275 aircraft have been installed with Jet ConneX in such a short space of time is a major endorsement of the service from customers. In the business aviation market, it's clear that manufacturers, owners and passengers all compete to have the very best products and services, so positive word-of-mouth about standout offerings travels fast.
"Early adopters of Jet ConneX from Fortune 500 flight departments have put the solution through their own rigorous testing and commended its merits after experiencing the results first-hand. Without their endorsement we would not be reaching this milestone so quickly."
Market-leading business jet manufacturers Gulfstream, Bombardier, Dassault and Embraer have all selected Jet ConneX as a preferred line-fit option. In addition, Inmarsat has experienced substantial adoption of the solution on a retrofit basis, with more than 40 type certificate and supplemental type certificate (STC) approvals already secured, including for all Boeing and Airbus VVIP type models.
"We are delighted that manufacturers, maintenance professionals and owners all recognise the unparalleled quality and potential of this solution," added Michael Rack. "Since entering commercial service, Jet ConneX adoption has made ground-breaking progress globally and we see no signs of it slowing down. Demand continues to be incredibly strong among executive travellers, particularly amongst Fortune 500 companies, and we look forward to even more activations in the coming months."
Using Inmarsat's advanced Ka-band satellite network, Jet ConneX offers data plans up to 15Mbps and consistent global coverage across all airline routes enabling the business traveller to do business wherever and whenever.
Aircraft connect to the service using Jet Wave hardware, which is manufactured exclusively by Honeywell Aerospace. To date, more than 1,000 of these JetWave systems have already been delivered by Honeywell to business aviation and commercial airline customers.