Several projects falling under the funding framework of "Connecting Europe Facility (CEF) for Transport" were selected by INEA – the European Commission's (EC) Innovation and Networks Executive Agency – and EC DG MOVE for an official visit on 22 June in Lisbon hosted by NAV Portugal (the Portuguese air navigation service provider and implementing partner for some of these modernisation projects) and in close cooperation with SESAR Deployment Manager.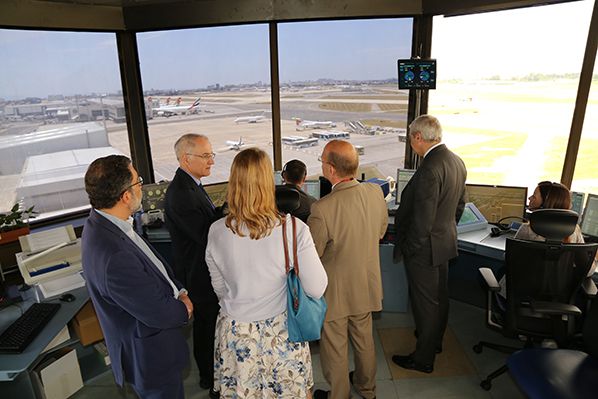 Visit to Portuguese Air Navigation Service Provider
(NAV PORTUGAL
Modernisation projects shows SESAR deployment in Portugal
During the visit, NAV Portugal and TAP Air Portugal (the national Portuguese airline) demonstrated the value of their projects in terms of activities and results relating them to the broader context of SESAR deployment in Europe.
The delegation met NAV and TAP at NAV Lisbon ACC in Lisbon, to witness the achievements of the selected projects. For NAV: 2015_138_AF5: 5.3.1 NAV Portugal - Implementation of a solution for electronic Terrain and Obstacle Data management; 2016_161_AF6 (ground): DLS Implementation Project - Path 1 "Ground" stakeholders.
And for TAP: 2016_069_AF2 (air and ground): Runway Overrun Prevention System (ROPS) bundled application for TAP Air Portugal; 2016_061_AF6 (air and ground): Deployment of ATN B1 capability within TAP Group.
Next to receiving a full overview of NAV and TAP's involvement in CEF co-funded projects, the delegation visited the Lisbon ACC Operation Room and Lisbon Airport Control Tower. This real-time showcase gave a good overview and understanding of the impact of these modernisations deployed under SESAR coordination.
It also brought additional insights to the local challenges (e.g. the impact of the strong traffic growth above forecasts) faced in Portugal.
The visit was the occasion to visualise Pilot Common Project (PCP) concepts in progress and underlying technologies, their synchronised deployment, performance improvement for the network, multiple stakeholders' involvement and more in general NAV and TAP's participation in the CEF funding framework.
The significant financial support awarded by the European Commission towards the deployment of new concepts and technologies through INEA (Connecting Europe Facility) is a key instrument for the European air traffic management sector: by doing so, air navigation service providers, airlines, airports and industry work together with joint cooperative efforts to deliver common values, standards and products for an integrated air transport sector at European level.
Mr. Francisco Gil, Administration Board Member NAV Portugal, stated during his welcome keynote that NAV Portugal is keen to enhance the service to our clients in the path of previous developments (e.g. Full free route, CDM at Lisbon Airport) and in the IATA Winter of 2019/2020 a new Lisbon ACC ATM System fully SESAR compliant.
Dirk Beckers, INEA's Director, said: "On-site visits to Implementing Partners are a very good opportunity for INEA to see the achievements of the implementation of CEF funded projects.
"This visit enabled INEA to witness the progress of several NAV Portugal and TAP Portugal projects, in particular related to the implementation of datalink services.
"Furthermore, discussing the challenges faced at local level, such as the increase of air traffic, showcases the importance of the modernisation and harmonisation of the European ATM network."
Nicolas Warinsko, General Manager SESAR Deployment Manager, stated: "SESAR Deployment Manager is happy to be able to facilitate these visits where SESAR deployment is showcased.
"They bring clear and tangible proof that SESAR is delivering and are crucial to assess the actual realisations on site.
"Today we have 72 fully completed projects bringing concrete benefits to EU passengers."
This was the eleventh visit since the start of these visits in March 2016. All implementing partner visits aim to recognise the concrete results from a timely and successful implementation of the Pilot Common Project – six essential Air Traffic Management functionalities co-financed by the EC to facilitate a comprehensive and synchronised deployment.