Singapore Airlines (SIA) has become the world's first airline to host a live TV news broadcast from on board a commercial A380 flight powered by SITAONAIR's high-speed Internet ONAIR over GX Aviation.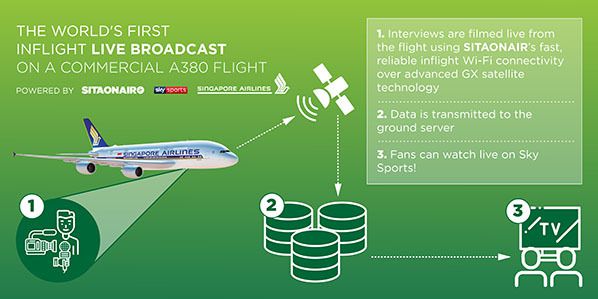 Singapore Airlines : World's first airline to host a live TV
The broadcast by Sky Sports featured live interviews with the Alfa Romeo team travelling from Zurich to Singapore on board flight SQ346 for this year's FORMULA 1 SINGAPORE AIRLINES SINGAPORE GRAND PRIX 2019. Fans on the ground were able to watch live as the team discussed what life is like in the sky, travelling to world-class racing destinations, while staying connected to their lives on the ground.
Singapore Airlines is able to keep its customers connected through SITAONAIR's high-speed, reliable and advanced inflight connectivity portal, Internet ONAIR, powered by Link ONAIR over Inmarsat's GX Aviation satellite network. A first of its kind, the live broadcast truly demonstrated how SITAONAIR supports the airline in providing 'always-on', reliable connectivity for passengers who need to keep in contact with work and loved ones.

As a long-standing SITAONAIR customer, Singapore Airlines is committed to providing best-in-class inflight connectivity. The airline adopted SITAONAIR's Internet ONAIR and Mobile ONAIR services in 2017, which are designed to provide super-fast and uninterrupted connection over land or sea.
SITAONAIR's Commercial Regional VP Asia-Pacific, Katrina Korzenowski, comments: "We're excited to support Singapore Airlines in this pioneering venture, bringing live broadcast interviews to fans on the ground from 35,000 feet! The event is a testament to SIA's dedication to outstanding passenger experience, as well as SITAONAIR's ever-evolving work with Inmarsat to provide highly reliable, advanced inflight connectivity to airlines throughout the globe."