Security takes top priority at the airport. A few days after the commissioning of BER on 31 October 2020, the airport company presented important security processes and hygiene measures at the airport, which include a new Coronavirus Test Centre.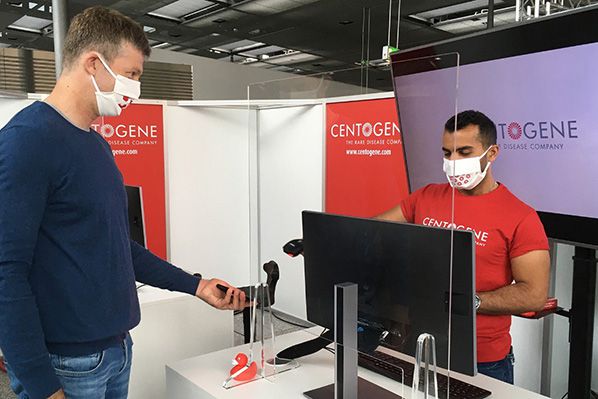 Safe operations take top priority
Security and hygiene measures presented at BER
In addition to ensuring aviation security, observing coronavirus provisions is particularly important in the light of the current situation. The airport company has implemented extensive hygiene measures in the terminals.
These include distance markings on the floor in all terminal areas, Plexiglas partitions and contactless dispensers for hand disinfection, as well as regular announcements on distancing and hygiene rules. A sufficient number of buses is provided for transport to and from aircraft on outer positions so that each bus is only about half full.
With its service providers, the Federal Police is the airport company's central partner in ensuring safe flight operations. The Federal Police's main tasks at BER include border controls, ensuring aviation security, policing the railway and fighting crime. The new Federal Police building at BER, in close proximity to Terminal T1 and Terminal T2, is an important element of the new airport's infrastructure.
An important step with regard to flying safely under coronavirus conditions is the opening of the new Coronavirus Test Centre in Terminal 1.
The Test Centre is operated by Centogene GmbH and is located on the E0 arrivals level and is open for arriving and departing passengers and visitors every day from 7 am to 7 pm. Travellers arriving at Terminal 5 can use either the Test Centre in Terminal 1 or other designated test centres in Berlin and Brandenburg.
The test costs EUR 59 and is compulsory for passengers arriving from risk areas. Alternatively, passengers from risk areas can also have themselves tested within 10 days at any other designated test centre in Berlin and Brandenburg.
Engelbert Lütke Daldrup, Chief Executive Officer of Flughafen Berlin Brandenburg GmbH: "Safe processes are pivotal to all procedures at the airport. It doesn't only have to be safe here, passengers also have to be able to feel safe. At BER, the close and trusting cooperation with the Federal Police is an important guarantee for this. The fact that the Federal Police were closely involved in the trial runs has already proven to be a great advantage.
The cooperation runs smoothly. All measures that contribute to protection against the coronavirus are also crucial. Here, we were also able to gain important experience in the trial runs, which we are now applying to protect our passengers. Having Centogene as an experienced provider of COVID-19 tests in Terminal 1, who are able to deliver reliable test results within just one day, is an additional good service that makes people feel safer again while travelling."
Karl-Heinz Weidner, President of the Federal Police Headquarters Berlin: "Coordination between the airport company and all responsible authorities at federal and state level, including the Federal Police, plays a key role in security. At BER, we work closely together and have, therefore, been able to influence the planning processes relevant for the Federal Police.
A tailor-made department has been created here! Everything is orientated towards our tasks and procedures, our space requirements for aviation security lanes, border control counters and office buildings could be taken into account. With a target figure of around 1200 employees, we can cover our range of tasks well 24 hours a day, 365 days a year. These are very good conditions for us to perform our duties at the airport."
Dr Volkmar Weckesser, Chief Information Officer at Centogene: "We are pleased to open our fourth airport test centre, in doing so making a significant contribution to supporting Berlin Brandenburg Airport Willy Brandt BER and its passengers.
We have conducted hundreds of thousands of tests since June and the demand for COVID-19 tests is steadily increasing. Travel is essential, both for the global economy and for our society."