GKN Aerospace announced that it has delivered the first FTE for Airbus' "Wing of tomorrow" research programme from its global technology centre (GTC) in Bristol. This builds upon the successful production earlier this year of the single piece composite wing spar, one of the most challenging wing components produced.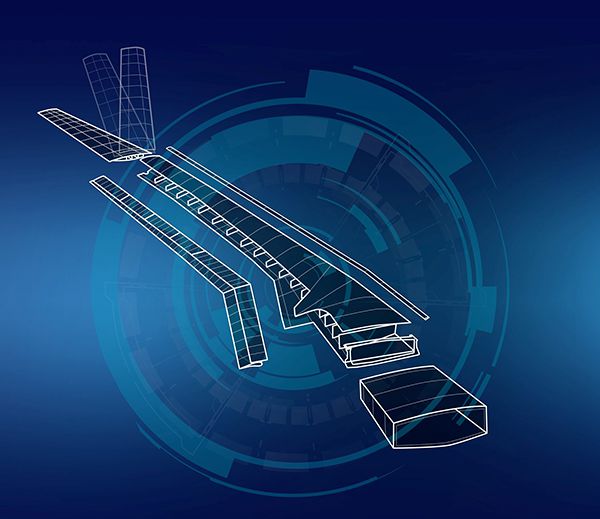 Chris Everett, GKN Aerospace Senior Vice President – Airbus Business said "The delivery of the first Wing of Tomorrow programme trailing edge into Airbus marks a significant step forward in technology deployment for this type of application. Advances in composite manufacture and automated assembly techniques are set to demonstrate the ability to both produce such items at high rate whilst delivering significant reductions in energy utilisation and waste."
The technology deployed sees a move away from traditional, pre-impregnated resin material to dry composite fibres that are injected with resin as part of the initial manufacturing process. This results in significant weight savings, removes one third of the production steps and significantly reduces energy consumption.
Advances in the automation of assembly of the FTE equally are set to demonstrate significant benefits in quality, repeatability and assembly time necessary to meet the requirements of high rate wing manufacture.
GKN Aerospace is using its world-leading capability in design and manufacture of composite Wing Spars and assembly of Fixed Trailing Assemblies - as proven on the A330ceo/neo (on assembly technologies), A400M and A350 - to mature the key technologies.
John Pritchard, President Civil Airframe of GKN Aerospace said: "The manufacturing of the first composite fixed trailing edge under the WoT programme is a great achievement. We are proud to be on board of Airbus' WoT research programme. The manufacturing of lighter, stronger and low maintenance composite wing structures will contribute to the sustainability goals of the aerospace industry and help shape the future of flight."