PAL-V and Kuwait Airways signed an MOU as the next step in the development of their partnership for the maintenance and possible use of PAL-Vs by Kuwait Airways. Last year PAL-V introduced the PAL-V Liberty to the GCC in Kuwait and received great interest from the region. PAL-V is currently exploring further cooperation with partners in the Gulf region to expand its business in the region.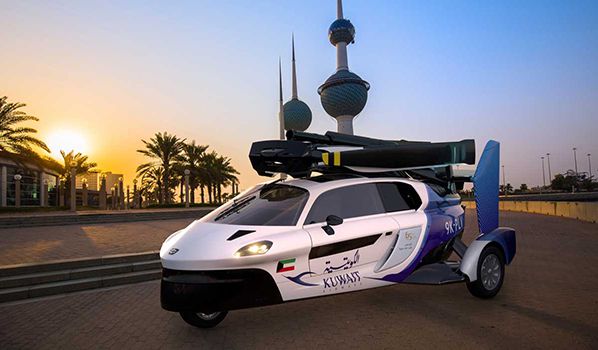 Kuwait Airways and PAL-V Bringing Flying Cars to The GCC
The intention is that Kuwait Airways maintenance facilities that comply to the very high standards of EASA will be servicing PAL-V products. This ensures PAL-V customers of the highest level of customer support. "Having a well-known maintenance partner like Kuwait Airways in the GCC is a big step for us to expand our business in the region." Says Robert Dingemanse, CEO of PAL-V: "Using their expertise in maintaining the PAL-V and having one of the leading airlines in the GCC as a partner is great for the development of our company".
Furthermore, Kuwait Airways will start to explore the possibility to use the PAL-V for their own operation offering their customers a "last mile" solution.
"Because the PAL-V can use the same airports that we are using it is a vehicle that can provide our customers with a "last mile" solution. FlyDriving them to where they need to go. Which will offer our customer a door-to-door journey instead of airport to airport." Says Kamil H. Al-Awadhi, CEO of Kuwait Airways.
The PAL-V only needs a small airstrip of 300m long in order to take-off and land which doesn't need to be a paved runway. The strips can be created in close proximity to urban areas where people are not disturbed by the presence of the airstrip.
PAL-V can drive the last mile to the destination, making the PAL-V a true door-to-door solution for the airport-to-city journey. The PAL-V can reach a landing strip near a city 400km away in just 2.5 hours, after that the conversion only takes 5 minutes and you can drive your last miles into the city.
PAL-V is currently taking orders in the region and because of the great interest in the GCC, PAL-V has chosen the GCC as one of the three regions to deliver the PAL-V Liberty Pioneer edition to.
A limited edition of the PAL-V Liberty of which only 90 pieces will be made and the very first flying cars that will be delivered in each country.