Picture a little piece of heaven set in the heart of the world of the terra magica (magic land) that is Istria in Croatia. This beautiful Mediterranean setting is home to a collection of exceptional villas offering the ultimate in luxury and beauty without compromise. A holiday at Villas Borghetto guarantees the epitome of comfort and style combined with impeccable personal service that exceeds all expectations.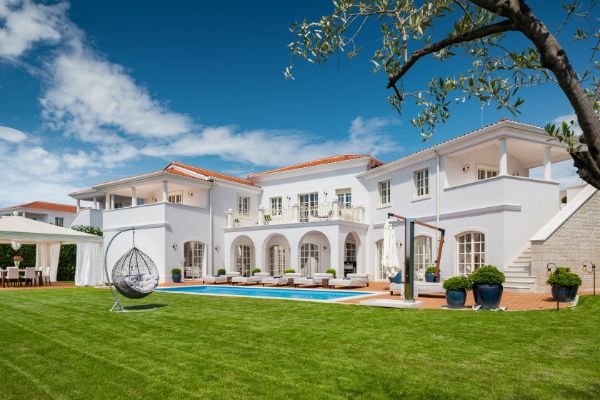 The Ultimate in Luxury Villa Living and Tailor Made Service from Villas Borghetto
The selection of beautifully appointed villas are located in a stunning Mediterranean setting overlooking the crashing waves of the rejuvenating Adriatic Sea as well as the lush olive groves and vineyards nearby. Each villa comes with a spacious outside area and there's a sparkling private swimming pool at its heart, as well as comfortable sun loungers and a barbecue. The elegant, contemporary interiors are decorated and furnished to the highest of standards throughout and offer plenty of space for relaxation and state-of-of-the-art fully equipped kitchens. All of the opulent bedrooms come with stylish en suite marble bathrooms and the most luxurious of linens.
The attentive, experienced staff at Villas Borghetto are dedicated to making dream holidays become a reality after careful discussion with every client. They are on hand to pay the closest of attention to detail and customise every trip for an incredible holiday experience unlike any other. There's so much on offer in the fabulous region of Istria. Whether guests are looking to learn about the wealth of fascinating history and cultural heritage on their doorstep or get back to nature by exploring the stunning coastline, unspoilt cliffs and untouched coves and beaches. There are also dense verdant forests and intriguing caves as well as the islands of the Brijuni archipelago. A unique and diverse environment waiting to be discovered.
Istria is also a food lover's heaven with incredible, tasty local produce and the chance to enjoy unforgettable meals made using local seasonal ingredients. Lovers of gourmet delights can sample the famous Istrian truffles, tuck into delectable seafood like the famous pilgrim scallops, sole and Adriatic squid, traditional dishes like beef buskarin and delicious seasonal vegetables including wild asparagus. There's also premium olive oil and excellent wine on offer.
The team at Villas Borghetto aims to customise any stay with the best of excursions and activities to suit every taste. They can also organise transfers by land, sea or air, healthy and beauty treatments and experiences or unique adrenaline-inducing adventures like scuba diving, paragliding or hang gliding. There's a vast array of opportunities for creating an enriching holiday to suit every taste and all in the utmost of luxury and style.
So it's no surprise that Villas Borghetto has been chosen by the experts at Luxury Lifestyle Awards as one of the winners in the category of Best Luxury Villa Rental & Accommodation Services in Croatia 2021. An exceptional holiday experience awaits every guest in the surrounds of breathtaking Istria.
For more information, visit villasborghetto.com